They were smashed by waves in the dark, circled by sharks and spent most of the last nine months sleeping two hours at a time.
But after 257 days a six-woman team of British rowers have become the first female crew – and the first crew rowing four at a time – to cross the Pacific Ocean after arriving in Australia.
The Coxless Crew's adventure, spanning more than 9,600 miles (15,500km), started in San Francisco in April and ended with wobbly steps on to Marlin Marina at Cairns in north Queensland on Monday.
Crew member Natalia Cohen said of her first steps off the boat: "It's actually really strange to know that this is the final time."
The sextet rowed 24 hours straight in two-hour shifts and only stopped on land twice, for up to a week, during the journey.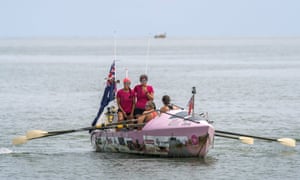 Their 29-foot boat, named Doris, contained a cabin the size of a two-man tent in which the women washed, cleaned and slept.
"It's very hot and very sweaty, especially in big waves where we have to keep the hatches closed," Emma Mitchell said.
"It's kind of like being in a two-man tent-sized sauna."
Mitchell, Cohen and team leader Laura Penhaul each rowed the entire trip while Isabel Burnham, Lizanne Van Vuuren and Meg Dyos rowed a leg each.
The women had been expected to dock on Sunday but were delayed by weather.
Dyos said she was looking forward to eating more substantial meals. "Basically everything is made with hot water: mix it for a bit, five minutes later it's all ready," she said.
"I think we're quite looking forward to having a chew."
The women started their trip hoping to raise more than $500,000 for charity and had managed around $77,500 by the time of their arrival in Cairns.
Their proceeds will go to Breast Cancer Care and veterans' charity Walking With The Wounded, which helps returned service personnel.