A quartet of British women have become both the youngest and fastest all-female team to row across the Atlantic after completing the 2,700 nautical mile journey in 40 days.
The rowers, Gee Purdy and Bella Collins, both 23, Lauren Morton, 26, and Olivia Bolesworth, 27, arrived at Antigua on Friday, having left La Gomera in the Canary Islands on 20 December.
The group, taking part under the team name Row Like a Girl, a reference to the Because I'm a Girl campaign by children's charity Plan UK, were taking part in the Atlantic Challenge, an organised race involving 26 boats, comprising solo rowers, pairs and quartets.
Row Like a Girl finished second in the event after completing the voyage on Friday, being beaten by a vessel of four male rowers, Ocean Reunion.
Purdy said the crossing had been hugely difficult at times: "There's no doubt that there were times where you question your sanity, sitting in the middle of the Atlantic in a rowing boat, oars in and a massive storm tossing you around the ocean.
"The feeling though of pure ecstasy to see the finishing line, to see our families and friends after 40 days made it all worth it. It has been an extraordinary journey with three of the most amazing girls."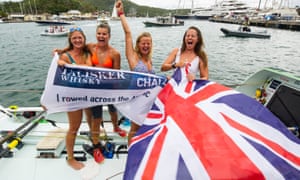 Despite occasionally heavy seas and hurricane-force winds the trip has gone noticeably better than crew member Morton's attempt to row the Indian Ocean in 2013. Rowing as a pair with another friend, she was rescued by a cargo ship after 96 days at sea.
The race is an unsupported challenge, with the women keeping up a schedule of two hours of rowing followed by two hours of sleep or maintaining the boat.
The British rowers are also aiming to raise £50,000 for Plan UK's campaign, which campaigns for the rights of girls and young women to overcome issues such as poverty, domestic violence and lack of access to education.
Their arrival comes four days after another group of British rowers made history with an even more arduous voyage. On Monday the six-woman team become the first female crew and the first crew rowing four at a time to cross the Pacific Ocean after arriving in Australia.
The Coxless Crew's adventure, spanning more than 9,600 miles, started in San Francisco in April and ended at Cairns in north Queensland.
They also rowed 24 hours straight in two-hour shifts, stopping on land twice during the journey.