"Don't you worry about a thing. I'm going to have you leaving this fight as handsome as you arrived.", the cutman alwyas delivers this message to the fighter.
Duran's introduction to combat sports came after visiting Thailand with the military as a young man. He watched Thai boxers and was mesmerised by the speed of their hands and feet. He returned home and began training kickboxers, learning how to stem their cuts on the job. He was soon in high demand as a cutman, taking him away from training duties. He never panicked at the scale of a fighter's facial cuts but just focused on how to stop the flowing blood. He was skilled with a swelling iron but his ability to read a fighter's psychological state was more valued. Did they need calming? Were they struck by nerves, fear or both? He will assess these quirks as much as a cut and try to fix them with light humour and soothing words.
"It's not really a job you can do training for – it's very much on the job training. I remember starting out, and asking an older cut man for advice, and he essentially told me to go to hell, he was taking his secrets to the grave. That's just the way it was unfortunately. For me, a lot of it was common sense. You work out how to treat the cut quickly and effectively but I never neglect the duty of care I have to a fighter and how I can help them."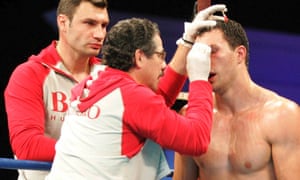 Between rounds, Duran sits the fighter down on his stool and always makes direct eye contact. He is able to recognise when a fighter is at risk of undue physical punishment and will inform his corner to stop the fight. He refuses to let their careers or health be destroyed. Duran spends hours every week observing the fighters that he works for, trying to understand their psychology. He develops relationships with his fighters that are almost paternal.
"I have always loved the moments just before a fight when I wrap the fighter's hands. It's a sacred moment. Every single fighter is different – some are silent, some are loud – but in that time, most are nervous. I have had some that have cried to me. But as we wrap the hands, I am keeping things light and calm in conversation. I hold their eye contact and they know that, with me in their corner, everything will be alright."
Duran grew up picking fruit in Central California, working long hours in the sun. He wanted to play professional baseball and dabbled in college ball for a few seasons until he could no longer afford to travel to practice. When he picked tomatoes and apricots, he told himself that, even if baseball hadn't worked out, he wanted to call himself a professional in some industry. He never envisioned that the fight industry would become his home.
Duran is the cutman of choice for countless world champion boxers and mixed martial artists. Recently, he found himself out of work with the UFC, after making comments about the organisation's sponsorship deal with Reebok. The deal barred cutmen from having any external sponsors on their clothing, costing them vital revenue. The end of his working relationship with the UFC was acrimonious and thousands of his fans voiced their displeasure on social media. Duran refuses to be bitter and speaks only of his love for the sport.
"I love boxing and UFC in terms of working at them, but if you had to ask me which I prefer, I suppose UFC is a huge challenge. In boxing, a lot of the time, you are dealing with one cut, or maybe two, whereas in UFC there can be several. I have built incredible relationships with those fighters. I remember working on Anderson Silva against Chael Sonnen. He was taking the most incredible beating but we kept working and eventually he won. I saw him recently and he was with fans. He excused himself and walked over to me, hugged me for a long time and just said 'thank you'. That means more than you can realise."
After building close relationships with the fighters in his care, Duran can find it difficult to watch them engaging in such brutal physical battles. He takes solace from that fact that, when a fighter has him in their corner, they can be calmer about their job. "I still love it after all these years – how can you not? I've always loved the idea of challenging myself and this job offers me that. I get huge satisfaction out of helping people. I remember in a recent fight, which was a very tough one, a fighter crouched down afterwards, gave me a kiss on the check, and said: 'I love you Stitch.' For a fighter to do this, it really means something to me."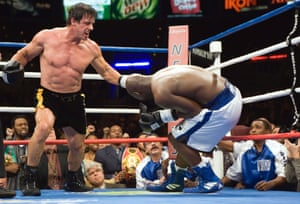 Duran's renowned personality and skill as a cutman, have also earned him acting credits. He appeared in Rocky Balboa and Creed at the behest of Sylvester Stallone. The boy who grew up picking fruit with dreams of playing pro baseball found himself on movie lots. "To be called to do these scripts, it's an incredible feeling. Interestingly, in Creed, I was originally down in the script as 'Marcel', but Stallone kept calling me 'Stitch' in the film. I went up to him and thanked him and asked him why, he said: 'How could we not?' I'm unable to sleep sometimes, just thinking and asking myself: 'What am I doing here?'"
After his enforced departure from UFC, Duran is turning his focus to boxing. His client list is always impressive; he wraps the hands of Wladamir Klitschko, Andre Berto and Andre Ward. Regardless of the scale of the fight or the opulence of the venue, Stitch will stick to his routine. He will flip a chair around backwards, carefully lay a folded towel on it, and place the fighter's arm flat. After winding the wrap carefully from the wrist to the knuckles and back, his fighter will be ready for battle. When the first bell rings and the first punch connects, the fighter can look forward to a minute of respite with Stitch, who will tell them to sit back, relax and don't worry about a thing.
• This article is from Behind the Lines
• Follow Jonathan Drennan on Twitter